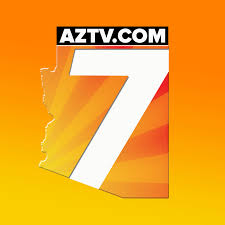 AZTV Channel 7 aka KAZT-TV is an independent television established on Sep 5, 1982 and serving the Prescott and Phoenix areas. Originally licensed to Prescott the service is owned by Londen family of Phoenix and is only station in the Phoenix to be under local ownership. The studio are being maintained on Tower Road in Prescott while secondary studios and a sales office is located in the Londen Center on Camelback Road in Phoenix. The primary transmitter is installed atop Mingus Mountain. Northern and Central Arizona get the transmission through seven LP translators which include KAZT-CD operating in Phoenix. A number of cable carriers as well as DirecTV and Dish Network provide the service in Phoenix market.
Watch AZTV Channel 7 Prescott, AZ Stream Live
Watch AZTV Channel 7 live streaming from Prescott, Arizona. KAZT-TV broadcasts Arizona Daily Mix, Mike Broomhead Show, AZ Faith, Local First Arizona, Hustle PHX, Positively Arizona, AZ!MPACT and more. Wait as the stream loads.



Read More
Slogan
: The New! Channel 7
Website: www.aztv.com/
Early Days
The channel signed on air in Jan 1980 as KNAZ when it acquired the construction; In the September the calls were changed to KUSK while KNAZ were transferred to NBC affiliate operating in Flagstaff. The channel signed on air as KUSK on Sep 5, 1982. By 90s, the station was carrying low-budget programs mainly created to target northern Arizona. It would also air syndicated programs rejected by other station in Phoenix markets; Home shopping content and local talk shows aired to operate the service under low-budgeting. Sports programming included the games of San Francisco Giants, Oakland Athletics and San Diego Padres.
KUSK Inc. filed for Chapter 11 bankruptcy in a local court on Dec 5, 1997 however, it survived and emerged from bankruptcy in May 2000. The company on Nov 30, 2001 announce sale of its assets to Londen family, the owners of Lincoln Heritage Life Insurance Company. The deal consummated on April 1, 2002 when Londen Media Group took over KUSK and its translators.
With the new ownership, the new calls: KAZT-TV were incorporated and the channel 7 was rebranded as AZ-TV. Arizona's Own was the newly adopted catchphrase. Stronger programming was introduced with revamped studio facilities as it shifted gears from a low-budget station mainly targeting Northern Arizona audiences to high quality independent service with a broader approach in Phoenix and getting ready to give KTVK some good competition in the Phoenix market.
Broadcast really station: KATZ-CD was launched on Jan 22, 1985; K27AN were the original calls of the station which were later changed to KHSK-LP in Dec 1994. Under the ownership of Londen Group on July 5, 2002, the calls became KAZT-CA.
Programming
Apart from its news programming, the channel hosts locally produced talk shows such as Arizona Daily Mix jointly hosted by Danielle Williams, Catherine Anaya, and Sandy and Friends anchored by Sandy Moss. Jerry Springer, Who Wants to Be a Millionaire, Rachel Ray Maury and Family Feud are some of the syndicated programs cleared by KAZT-TV.
A good amount of sports programming was supplemented under the new ownership of Londens. It would then air Women's basket all, softball and baseball serving as a television home to Phoenix Mercury of WNBA. It also served as a flagship broadcaster of Arizona State University men's basketball team.
Watch the local headline news, weather and sports updates, locally produced talk shows, community events and more. Follow the station on Facebook, YouTube, Twitter and Instagram. Here is the website: www.aztv.com
Shows
| Arizona Daily Mix | Sienfeld | Family Guy | Rachel Ray |
| --- | --- | --- | --- |
| Cops Reloaded | Funny You Should Ask | American Da | Access Hollywood |
| Maury | King of the Hill | Who Wants to Be a Millionaire | Steve Wilkos |
| AZ Faith | Bob's Burgers | Mike Broomhead Show | DailyMailTV |
| Family Feud | M*A*S*H | The Goldbergs | – |
Contact
Address: 4343 E. Camelback Rd. #130
Phoenix, AZ 85018
Tel: 602 977 7700
Fax: 602 224 2214
Email: rsoltesz@aztv.com