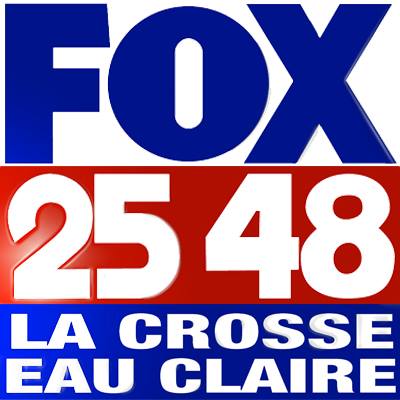 WLAX branded as Fox 25/48 is a La Crosse-based Fox affiliate in Wisconsin operating in Western Wisconsin. The channel broadcasts in HD from a transmitter installed in La Crescent, Minnesota alongside studios of WXOW, an ABC affiliate active on Ch 19. Nexstar Media Group owns the service stationed at Interchange Place in La Crosse. WEUX is the fulltime broadcast relay transmitter licensed to Chippewa Falls and serves Chippewa Valley and Eau Claire. HD Signal of the satellite is broadcasted from a transmitter located at southeast of Colfax. The advertising sales offices is located on WIS 93 in Eau Claire.
Watch WLAX: Fox 25/48  La Crosse, WI Stream Online
Watch WLAX: Fox 25/48 streaming live from La Crosse, Wisconsin. Stream may take a moment to load.

Read More
Siblings: WJMN-TV and WFRV-TV
Website: www.wiproud.com
History
WLAX went on air on Nov 10, 1986 using an analog signal on UHF Ch 25 under the ownership of Family Group Broadcasting. Following its inception few months later serving as Wisconsin's maiden general entertainment station, it got linked with Fox network. Due to the location of its transmitter in Minnesota, it offered a weak signal to northern pockets of the market; the same problem plagued ABC-affiliated WXOW which had an inadequate over-the-air signal. Consequently the audiences in Eau Claire could only receive the channel through cable subscription. Family Group Broadcasting released WGBA and WLAX to Aries Telecommunications in 1991.
The fulltime satellite WEUX hit the waves on Feb 8, 1983 to improve the deficient signaling in the northern parts of the market. The duo was then rebranded as Fox 25/48. Grant Broadcasting in 1996 became the new owner of WLAX and the satellite WEUX. It became available on Dish Network and DirecTV on April 29, 2004 and May 24, 2005 respectively. Nexstar Broadcasting Group on Nov 6, 2013 revealed their purchase of Grant Broadcasting assets for USD 85.5m. The deal consummated on Dec 1, 2014 to become sister with WFRV-TV, a CBS affiliate in the Green Bay market.
Programming
Notable syndicated content broadcasted by the channel includes Two and a Half Men, Judge Judy, The Big Bang Theory and Modern Family. Fox 25/48: WI Proud can be watched online for local news, local weather and local sports updates. The community events from Eau Claire and La Crosse, updates from local political scene, Fox First Update, contests and more is also available on the official web-portal. Follow WLAX on Facebook and Twitter. Here is the website: www.wiproud.com/
Here are some of the programs produced by the station:
| Marc and Mandy | Today 3rd Hour | Judge Joe Brown | The Partridge Family |
| --- | --- | --- | --- |
| In the Heat of the Night | The Balancing Act | Living Single | Who Wants to Be a Millionaire? |
| Half & Half | Without a Trace | Diagnosis Murder | Home Improvement |
| Boston Legal | Live PD: Police Patrol | Hazel | Business First with Angela Miles |
| News 8 This | Leverage | The People's Court II | Matlock |
| Dennis the Menace | Judge Judy III | Night Court | |