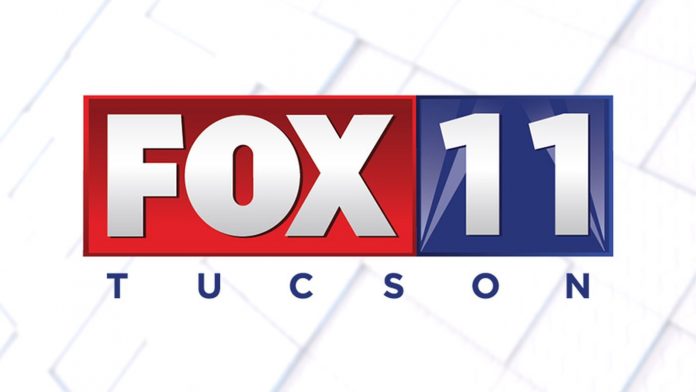 KMSB Fox 11 owned by Tegna Inc., is a Fox affiliate operating in Tucson, Arizona. Gray Television which owns CBS-affiliate KOLD-TV, through a shared services agreement operates the service. Gray through a separate SSA with Tucker Broadcasting also runs MyNetworkTV affiliate KTTU broadcasting on Ch 18. The trio share the facilities on North Business Park Drive on the northwest side of Tucson. The transmitter is maintained atop Mount Bigelow.
Watch KMSB Tucson, AZ Stream Online
Watch KMSB; Fox 11 Tucson online stream for latest news stories, weather and sports updates and entertainment feeds. Wait as the stream loads.



Read More
Slogan: Tucson's News First
Sub-Channels: 11.1 Fox
11.2 Movies!
11.3 Justice Network
11.4 Quest
Website: www.tucsonnewsnow.com
History
KZAZ hit the waves on Feb 1, 1967 as Tucson's maiden independent service. Licensed to Nogales, the studios of the station were originally maintained in Tucson. At its onset, the channel would air multilingual programming including movies, sitcoms, cartoons, bull fights and dramas in both English and Spanish. Apart from general entertainment fare, KZAZ also held its own local news department.
KZAZ originally came under the ownership of IBC Limited Partnership and was headquartered in a former Safeway supermarket on Tucson Blvd. On 19, 1976, a group of local investors named as Roadrunner Television took over the channel. The group then brought live wrestling matches, interview segments and local newscasts into the service. It then carried business news programming borrowed from the Financial News Network between 1981 and 1985 on weeknights before signing off.
Mountain States Broadcasting, a subsidiary of Providence Journal Company in 1984 purchased KZAZ on Sep 12, 1985; the current calls KMSB-TV were incorporated on Sep 12, 1985 under the new ownership. To reduce the financial burden the new management applied cuts on the news operations. It became a charter Fox affiliate upon the singing of the now key player among networks on Oct 9, 1986. KMSB became the operator of KTTU (owned by Clear Channel Communications) in early 90s and in 1991 was allowed to move its city of license to Tucson. Belo Corp. in 1997 acquired Providence Journal's Holdings to become the new owner of KMSB. With the shutdown of 4Kids TV on Dec 27, 2008, the channel abandoned the kids programming and cartoons.
Belo in Nov 2011 entered into an SSA with Raycom Media; the agreement got into effect in Feb 2012. The Raycom asset would then take over the operations of the sister KTTU and KMSB. On Dec 23, 2013, Gannet acquired KMSB; the company (Gannet) was spun off and was incorporated under new identity Tegna on June 29, 2015.
Programming
After surviving 20 years without a newscast, the channel introduced a 9pm newscast in 2003. From its launch until Aug 2008, the bulletin was hosted by KTVK. However, sports segments were entirely created and produced form KMSB facilities in Tucson by 2006. Following the takeover of operations by KOLD-TV on Feb 1, 2012, the prime time news-bulletin was shifted to the latter. You can watch the service online with latest local news stories, weather and sports updates, reporting of community events and more. Fox 11 is available on Facebook and Twitter. Here is the website: www.kold.com/
Contact
Address: 7831 N. Business Park Drive
Tucson, AZ 85743
Tel: 520 744 1313
Email: jtracy@kmsb.com