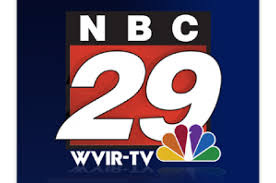 WVIR-TV is an NBC affiliate licensed to Charlottesville, Virginia and is owned by Waterman Broadcasting. The channel has studios on East Market Street in downtown Charlottesville with transmitter installed on Carters Mountain south of the City. It also serves as NBC affiliate in Harrisonburg and Staunton market and additionally operates two translators to cover the core cities.
Watch WVIR-TV Charlottesville, VA Stream Live
Watch WVIR-TV live streaming from Charlottesville, Virginia. Wait as the stream loads.


Read More
Slogan
: Count On US!
Website: www.nbc29.com/
History
The original company to apply for Ch 29 slot was WINA radio owner Charlottesville Broadcasting Corporation; it received the permit in 1965 but couldn't launch the service after getting two extensions under the calls WINA which it eventually gave up in 1969. WVIR already assigned Ch 64 position then got the opportunity to get the lower assignment in 1973.
The channel was launched on March 11, 1973 as first television channel in Charlottesville followed by WHSV-TV. It was purchased by Waterman Broadcasting in 1986. Until Aug 15, 2004, NBC affiliate was the only full-power commercial station in Charlottesville market. Linked with a major network without being available on cable. WCAV was launched on the same date on Aug 15, 2004 to pose a challenge to WVIR as a CBS affiliate in the area.
WVIR every year holds an annual telethon transmission to raise money for the Children Hospital linked with University of Virginia Health System. The current and former staff of the Ch 29 involved in transmission takes phone calls for the funding and talks to the patients admitted in hospital.
WBBH-TV and WZUN-TV are the sister of the service operating in Fort Myers, Florida. It entered the 2016-17 Spectrum reallocation auction and has currently a pending status and has to move to low-VHF band Ch 2 or Ch 32 before Sep 7, 2019.  On March 4, 2019 Waterman announce to release WVIR to Gray which already had ownership of WCAV and WVAW-LD. It became WAHU-CD, a fox affiliate sister on April 15, 2019 once the sale completed.
Programming
Syndicated programs broadcasted by the channel include Jeopardy!, Wheel of Fortune, Dr. Phil and Live with Kelly and Rayan among others. Both Shenandoah Valley and Charlottesville regions are covered under the news operations of the station. It also holds a bureau in The News Virginian newsroom in Waynesboro while operating a sale office in Staunton. The news-bulletins on WVIR's primary channel are available since April 2008. NBC 29 News, weather and sports updates, features, Inside 29, most popular videos, health news and more is available online. Find the channel on Facebook, Twitter and YouTube. Here is the website: https://www.nbc29.com/