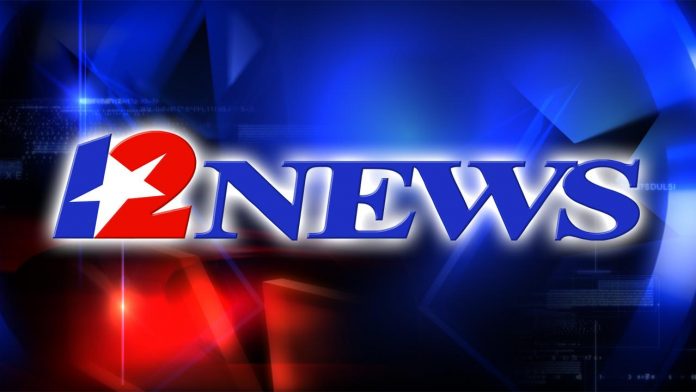 KBMT is an ABC/NBC affiliated television station and licensed to Beaumont, Texas. Tegna, Inc. has owned the station and a studio with 1-10/U.S, 69/U.S, 96/U.S.287 in Beaumont. The station founded in 1961 and the first show aired 57 years ago on 18 June 1961. The call letter meaning of network is "BeauMonT". It has three sister channels: KBMT-LD, KVHP-LD and K27JJ-D.
Watch KBMT Beaumont, TX Stream Live
KBMT: 12NewsNow (Channel 12) hosts local Texas news, live videos, weather and sports updates, Southeast Texas Scoreboard and more for Southeast Texas' communities. Stream may take a moment to load.

Read More
Slogan
"Expect More"
Website
The online streaming of KBMT is available on the following link.
History
On 9 May 1954, KBMT call letters were used for channel 31 and owned by Television broadcasters, Inc. It carried programming of NBC, DuMont and ABC.  FCC approved a new station with KBMT call signs which airs on 18 June 1961. In 1965, the station purchased by Cowles broadcasting that further sold to H & C Communications in 1980 and then McKinnon Broadcasting in 1991. The NBC programming started on subchannel 12.2 on 1 January 2009. It shut down its analog signal over channel 12 on 12 June 2009. In August 2009, London Broadcasting acquired the station. Gannet decided to purchase the station and its other five channels from London Broadcasting on 14 May 2014 and that sale completed on 8 July. Gannet company divide into two parts on 29 June 2015 with one side in print media and other side specializing in digital media. And then station and its digital channels retained a company named Tegna, Inc.
Programming
KBMT carries a variety of programs such as news, talk shows, sports, drama series, sitcom, etc. A list of shows has given below in the table, have a look at it. It launched news operation in 1962 but, several changed occurred in news transmission on 16 September 2009.
American Housewife
It is a family sitcom, focuses on the daily life of a woman. She is a wife and a mother who stand out among the wealthy and arrogant housewives.
20/20
It is an hour-long news program which airs on Friday evening. The show focuses on national and international as well as political subjects.
Judge Judy
It is a reality show in which judge presides over real small claims cases inside the courtroom.
Sr. No
Programs
Category
1
20/20
Newsmagazine
2
ABC News Nightline
News
3
The Gold bergs
Sitcom
4
American Housewife
Sitcom
5
America This Morning
Early Morning News program
6
A Million Little Things
Family Drama,

Serial Drama

7
Modern Family
Sitcom
8
The View
Talk show
9
GMA Day
Talk show
9
The People's Court
Reality Show
10
Judge Judy
Arbitration based reality court show
11
The American Athletes
Sports and Interview television series
12
Rock the Park
Musical event
Availability
                      Digital Availability
Main KBMT programming/ABC
Channel 12.1
NBC
Channel 12.2
Cozi TV
Channel 12.3
Me TV
Channel 12.4
                                  KBMT-LD
KBMT-LD/MyNetwork
Channel 12.5
Ion Television
Channel 12.6