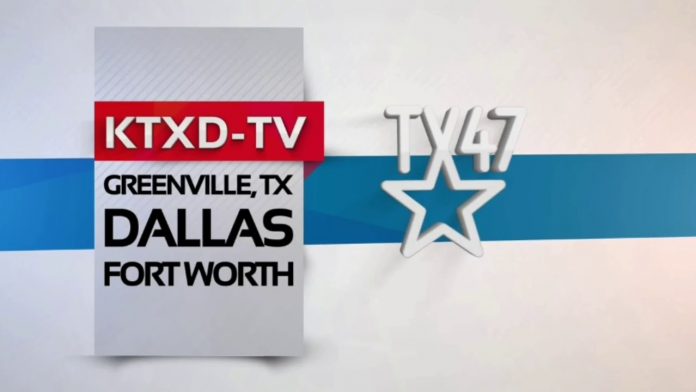 KTXD-TV is a Greenville, TX station broadcasting from Dallas-Fort Worth Metroplex. Owned by Cunningham Broadcasting, the channel has studios located on Dallas Parkway in Addison with transmitter installed south of Belt Line Road in Cedar Hill, Texas. Verizon FiOS and Charter Spectrum are the primary cable carriers of the television channel.
Watch KTXD Greenville, TX Streaming Live
Watch KTXD streaming online from Greenville, Texas to get latest Greenville, Fort Worth and Texas news. Wait as the stream loads.



Read More
Early History
KTXD went on air as KTAQ on April 1, 1994 and carried HSN and other shopping network as its primary content. It changed affiliation and became America's Collectibles Network partner in 2000. It switched to ShopNBC in 2004 before becoming a full-time religious broadcaster in 2006. Promiseland Television Network was the original owner of KTAQ. It filed for Chapter 11 Bankruptcy in Nov 2008; the channel was eventually released to Platinum Equity, LLC in the midst of 2010. In Nov 2010, it again switched to an infomercial format.
London Broadcasting Ownership
Addison-based London Broadcasting became the new owner of the channel after the completion of the sale on Jan 19, 2012 and changed the calls of KTAQ to KTXD-TV. It became a MeTV affiliate on March 16, 2012 and added more locally produced entertainment and lifestyle programs. KTXD ended its affiliation agreement with MeTV on Oct 31, 2013 as a result its subchannel 47.4 went dark. It would then move to general entertainment format and competed effectively with KTXA for local programs and classical content.
The channel also acquired the local rights to Dallas Cowboys games meanwhile. Gannet Company became the new owner of KTXD on May 14, 2014 following the acquisition of 6 London Broadcasting televisions in a transaction worth USD 215m, however, London settled to exclude KCEB and KTXD from the deal. Cunningham Broadcasting announced to acquire the station on Sep 15, 2017 for a transfer fee of USD 9.5m. A partner company of Sinclair Broadcast Group, Cunningham formally took over the ownership of KTXD on Jan 11, 2018. The general entertainment format was replaced by Sinclair-owned Stadium network's programming.
You can watch KTXD online for latest news and entertainment programs and follow the channel on Facebook, Twitter and YouTube. Here is the website: www.texas47.com/