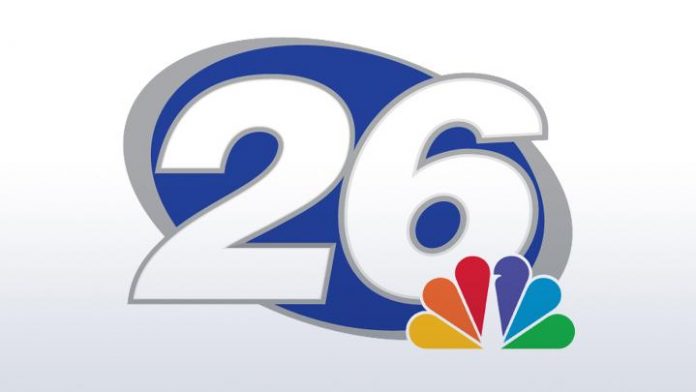 NBC26 registered as WGBA-TV launched on Dec 31, 1980 is a news service owned by E.W. Scripps Company and shares duopoly with WACY-TV affiliated with MyNetworkTV. The two sisters share the same roof on North Road alongside WIS 172 freeway. The transmitter in installed in the unincorporated community of Shirley. Cabe service subscribers can get the station on Ch 13 using Charter Spectrum, on Ch 7 using CenturyLink and Comcast Xfinity in Manitowoc and on Ch 26 if you are a AT&T U-verse user.
Watch NBC26 Green Bay, WI Stream Online
Watch NBC26 streaming live from Green Bay, Wisconsin. Wait as the stream loads.


Read More
Catchphrase: Keeping You Connected | Your Official Packers Station
Siblings: WTMJ and WACY
Website: www.nbc26.com/
Early Days
WGBA initially registered as WLRE looked for a construction permit and license as early as Dec 1977. However, it had to wait to get the ideal location for its transmitter on Scray's Hill near De Pere. The transmitter site was eventually approved and the channel was launched in 1980. WLRE signed on air on Dec 31, 1980 broadcasting on UHF Ch 26. Green Bay market's second independent service was the maiden new commercial station to break the ground since the inception of WFRV in May 1955. A new transmitter was launched on Nov 12, 1982. Family Group Broadcasting became the owner of the station in 1985 and changed the calls to WGBA and branding to TV 26. It became a Fox affiliate after original Fox affiliate in the Green Bay area: WXGZ was pulled off air following declaring bankruptcy in Feb 1992. It was then branded as Fox 26. After the acquisition of WXGZ by Ace TV, WGBA provided its aid to relaunch the station in June 1994 via a LMA. WXGZ then signed with UPN and became WACY-TV in 1995.
Affiliation with NBC
WGBA on Aug 28, 1995 signed affiliation with NBC leaving the Fox slot for WLUK owned by SF Broadcasting. It was sold to Journal Broadcasting Group in Oct 2004 as the channel struggled to survive in the Green Bay market duly filled with the trio of broadcasters with their respective loyal audiences since 1950s.
E.W. Scripps Acquisition
E.W. Scripps on Dec 12, 2014 in an all-stock transaction purchased Journal Communications following the approval of Federal Communications Commission. The unification of the assets of the two companies consummated on April 1, 2015.
Programming
NBC26 hosts 19.5 hours of locally produced news-bulletins with 17.5 hours on weekdays and 2 hours on Sat and Sun. Apart from main studios, the channel maintains Fox Cities Bureau in Downtown Appleton on West College Avenue. It also operates its own weather radar from the North Radio studios. Ashley Webster and Larry McCarren are the notable personalities of WGBA. Local news, weather and sports updates, traffic reports, contests and more is available online. Follow NBC26 on Facebook, Twitter and YouTube. Here is the website: https://www.nbc26.com/