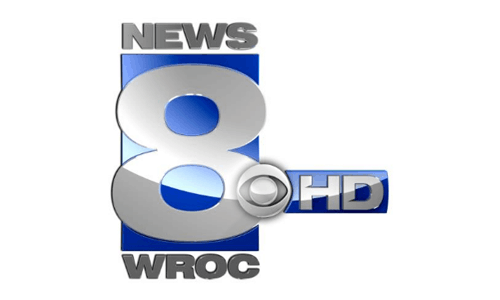 WROC-TV (Channel 8) is CBS affiliated television station, licensed to Rochester, New York. Nexstar Media Group is the owner of the channel 8. The WROC-TV (Channel 8) founded in 1949 and the first show of this station aired 69 years ago on 11 June 1949. The call letter meaning of WROC-TV (Channel 8) "Rochester". The studios of WROC-TV are located on Humboldt Street in Rochester, and transmitter of Channel 8 occupied on Pinnacle Hill in Brighton, United States.
Watch WROC-TV Rochester, NY Online Streaming
Watch WROC-TV: Channel 8 live stream from Rochester, New York. News 8 is the first authentic source of news, weather, sports updates, lifesyle programming, community events and more. Stream may take a moment to load.
Read More
Slogan
     "The Team You Can Trust"
Website
The online streaming of WROC-TV (Channel 8) is available on the following link.
History
WROC-TV first started with call letters WHAM-TV on 11 June 1949. At this time, Stromberg Carlson has owned this channel. At this time, Stromberg Carlson has owned this channel. Beside of this, the station was also affiliated with DuMont Television Network. In 1955, Stromberg Carlson merged with General Dynamics and then in 1956 Transcontinent Broadcasting purchased the station. The owners changed into WROC-TV and then sold to veterans broadcasting Company in 1961. On 8 September 1962 WROC-TV moved to channel 8 under Veterans ownership. Veterans merged with Rust Craft in 1964 and sold the channel Ziff Davis in 1979. In 1996, Television Station Partners sold the WROC-TV and other sister channels to Smith broadcasting, and in 1999 Nexstar purchased the station.
Programming
WROC-TV (Channel 8) offers, the variety of programming, including, news, talk shows, ComedyDrama, Newsmagazine, political thriller drama, Soap Opera and other entertainment series. A list of programming given below, have a look at it.
God Friended Me
It is a comedy-drama, explores the questions of faith, existence, and science. The program describes the changes in lives.
Madam Secretary
Madam Secretary is a political drama thriller which explores the Secretary Elizabeth McCord's life.
The Young and the Restless
It is a Soap Opera, focuses on two core families: one is working class Foster family and second Wealthy Brooks family. Bell exchanged these family with the other two families.
Jeopardy!
It is Game show, premises quiz competition in which participants presented with general knowledge clues in form of answers.
Sr. No
Programs
Category
1
48 Hours
Newsmagazine
2
Madam Secretary
Political Drama

Thriller

3
Inside Edition Weekend
Newsmagazine
4
God Friended Me
Comedy Drama
5
News 8 at Sunrise
News
6
The Dr. Oz Show
TV Series
7
The Bold and the Beautiful
Soap Opera
8
The Young and the Restless
Soap Opera
9
The Talk
Talk Show
10
Jeopardy!
Game Show
11
The Neighborhood
Comedy
12
Magnum P.I.
Drama Series
13
Bull
Drama Series
14
Comics Unleashed
Talk Show
15
Let's Make a Deal
Game Show
Availability
                  Digital Availability
Main WROC-TV programming
Channel 8.1
Bounce TV
Channel 8.2
Laff
Channel 8.3
Escape
Channel 8.4