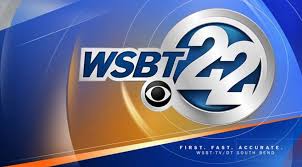 WSBT airing on digital UHF ch 29 and virtual ch 22 is a joint Fox and CBS affiliate active in South Bend, IN and also serves areas of Northern Indiana as well as southern parts of Western Michigan. Sinclair Broadcast Group is the owner of the channel with studios located on East Douglas Avenue in Mishawaka and transmitter set up on Ironwood Road in South Bend near St. Joseph County 4-H Fairgrounds.
Watch WSBT South Bend, IN Streaming Online
Watch WSBT live stream from South Bend, Indiana. Channel 22 carries latest news, weather and sports updates. Wait as the stream loads.

Read More
Slogan: First, Fast, Accurate
Sisters: Fox Sports Indiana, Marquee Sports Network and Fox Sports Detroit
Website: www.wsbt.com/
Early History
WSBT went on air on Dec 21, 1952. It was originally held by South Bend Tribune and had studios located in the South Bend Tribune building at Lafayette and Colfax in downtown South Bend. The studios were shifted to Lafayette and Jefferson Street in 1956. It at its onset was linked with each of the big four networks in US. However, ch 22 was a primary CBS affiliate having secondary association with ABC, DuMont and NBC. It lost all the three secondary affiliations after WSJV went on air in March 1954. WSBT was the first UHF channel in US to air live newscast, a 5-min local news-bulletin. Although the oldest UHF service, WSBT once switched channel during its analog days. Beginning with UHF ch 34, it moved to Ch 22 in 1958. The channel 22 was also the first station in Indiana to start color broadcasts in 1954.
2008-Present
On Nov 16, 2008. it opened new cutting-edge studios and offices in Mishawaka. It was the first Michiana service to air local news-bulletins in HD courtesy its new facility. Its former studios were then occupied by Public Broadcasting Service affiliate WNIT.
WSBT owner Schurz Communications revealed plans to acquire Weigel Broadcasting-held WBND-LP and WMYS-LP on Aug 4, 2008. On Sep 14, 2015 Schurz confirmed it would step out of broadcasting business by selling its radio and TV assets to Gray Television for USD 442.5mn. Gray which ultimately became the owner of WSBT, released it to Sinclair Broadcast Group for WLUC-TV in Marquette, MI after Federal Communications Commission approved the swap on Feb 12, 2016.
Programs
WSBT-TV apart from clearing all of Fox network lineup hosts syndicated programs such as The Ellen DeGeneres Show, Jeopardy!, Rachael Ray and Wheel of Fortune. It at present carries 49.5 hours of locally produced news-=bulletins with 8.5 hours on each weekday and 4 hours on Sat and 3 hours on Sun. Audiences can get latest news, weather and sports programs, videos, health and business news, closings and more online. Follow WSBT on Facebook, YouTube and Twitter. Here is the website: https://wsbt.com/