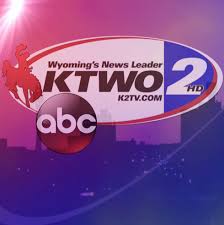 K2TV aka KTWO-TV is an ABC affiliate operating in Casper, Wyoming and is owned by Silverton Broadcasting. The studios are located on Skyview Drive in Casper with transmitter maintained on Casper Mountain. Charter Spectrum Cable carries the service on Channel 6. It is also spread across the state using the digital sub-carrier of KLWY (a Fox affiliate) and a chain of repeaters employed by KTWO for the coverage of farther areas.
Watch K2TV Casper, WY Streaming Live
Watch K2TV streaming online from Casper, Wyoming. Wyoming's News Leader hosts local news, weather and sports programming. Wait as the stream loads.
Read More
Slogan: Wyoming's News Leader
Website: www.k2tv.com
History
KTWO hit the waves on March 1, 1957 as the second TV station in the market under the ownership of Harriscope Broadcasting which also owned Wyoming's oldest radio service KTWO 1030 AM. Being the only television service at that time in the Casper, the channel shared programming of the big three networks but was primary affiliated with CBS as was its sister's KTWO 1030 AM longstanding partnership with CBS Radio. In 1978, it towards ABC as its primary affiliate which became the highest rated network in the United Sates during the time. KGWC-TV replaced KTWO as CBS affiliate in 1980 as Harriscope station signed a secondary affiliation with NBC. The company sold its asset with sister Billings-based KULR to Dix communications in 1986. KKTU, a satellite of KTWO hit the waves in Cheyenne on Aug 28, 1987. KAAL and KTWO were then released to Eastern Broadcasting in 1994. For a short while, KTWO and its satellite also served as the secondary affiliates of The WB. Eastern in 1997 sold KTWO along with Joplin-based KODE and Austin-based KAAL-TV to Grapevine Communications which in turn transferred it to Equity Broadcasting in March 2001. The station originally operated from a facility on East Second Street in Casper before moving to its current place which it shares with KGWC, KFNB and KWYF.
Affiliation with ABC
NBC separated from KTWO to favor KCWY on Sep 1, 2003. KTWO wanting to sign with ABC was waiting for the expiration of KFNB's contract with the network. The contract terminated in June 2004 while KTWO in the meantime survived as a non-affiliated independent service however, it used some Pax TV's (later Ion TV) content. The Cheyenne broadcast relay station: KKTU soon switched its affiliation to ABC and rebranded as ABC 8 in Cheyenne. KFNB agreeing to end its ABC affiliation before the due date allowed KTWO to become an ABC affiliate formally in March 2004. KFNB beat out K26ES to become Fox affiliate; K26ES would join UPN. The calls of the satellite KKTU were changed to KDEV in 2005.
Silverton Media on May 31, 2006 became the new owner of the station however, Equity didn't release KDEV but allowed Barry Silverton to operate the rebroadcaster. Under the new ownership, the programming in Cheyenne was transferred to KKTU-LP as KDEV made switch from ABZC to RTN. The low power facility changed its calls to KDEV-LP after Equity-owned service adopted KQCK. After KDEV-LP disaffiliated with ABC in Sep 2009 the task was moved to another LP-satellite KKTQ-LD in Sep2010. As of now it uses KLWY's digital sub-carrier to air its broadcasts inn Cheyenne. Silverton Broadcasting planned to sell KTWO-TV to Legacy Broadcasting in Feb 2018 but the deal never consummated and was cancelled in Oct 2018.