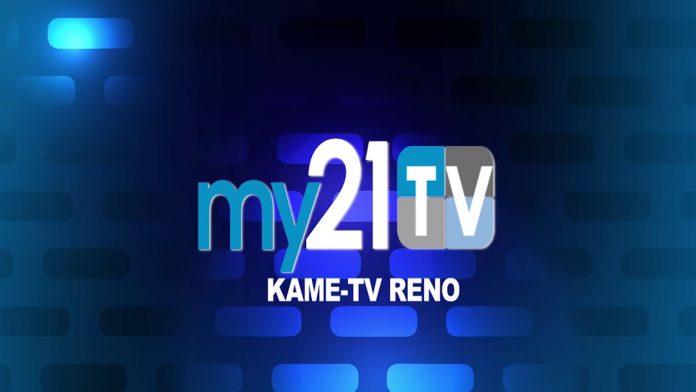 KAME-TV is an independent sports station owned by Deerfield Media and operated by Sinclair Broadcast Group. The MyNetworkTV secondary affiliate is licensed to Reno and broadcasts from the transmitter facility on Red Hill in Sun Valley which is also houses KNPB. Nevada Sports Net is available on Charter Spectrum: Ch 7. HD broadcasts can be accessed via digital Ch 787. KRXI-TV and KRNV are the sister stations of the KAME. The station is located on Brookside Court in Reno which it shares with KRXI.
Watch KAME-TV Reno, NV Stream Online
Watch KAME-TV: My21 live stream from Reno, Nevada. Stream may take a moment to load.



Read More
First aired on Oct 11, 1981, the channel at beginning broadcasted movies, westerns, sitcoms and cartoons. It became a charter affiliate of Fox on Oct 9, 1986 and became a UPN secondary affiliate on Jan 16, 1995; KAME assumed the fulltime UNP affiliation on Jan 1, 1996. Raycom Media owned the station between Sep 1996 and May 1997 for a short spell of time. It upon the unification of UPN and The WB became a MyNetworkTV affiliate on Sep 5, 2006. Cox Media Group on June 20, 2012 put KRXI and other stations on sale which also included the Local marketing agreement for KAME. The company on Feb 25, 2013 revealed that it would sell its four television stations and local marketing agreement for KAME to Sinclair Broadcast Group. The deal also concluded that Ellis Communications would release KAME to Deerfield Media. Federal Communications Commission on April 30, 2013 gave its approval for the sale which consummated on May 2, 2013 after which Sinclair became the owner of KRXI and KRNV. Sinclair rebranded KAME as Nevada Sports Net on Aug 31, 2018. The channel would air Nevada Wolf Pack athletics, Mountain West Conference and also give coverage to Reno Aces. It was also decided that the channel would retain MyNetworkTV as its secondary affiliate. A new all-sports format was launched on Sep 1, 2018. KAME on Feb 17, 2009 switched from analog to digital signal on Feb 17, 2009.
Programming
Prior to its move to sports format, the station broadcasted syndicated programs that included Family Guy, Judge Faith, Anger Management, The Real and The Simpsons. At present the channel covers, High School and College Basketball Soccer, Football, Golf and Baseball. Scores, videos, standings and Wolf Pack updates are also part of the programming. You can watch NSN: Nevada Sports Net online and connect with the station using Facebook, Twitter and YouTube. Here is the website: www.nevadasportsnet.com/