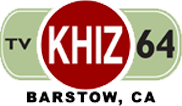 KHIZ-LD owned by DTV America Corporation is a Los Angeles based station affiliated with Escape. It uses digital signal to broadcast on VHF Ch 2 but appears on Ch 39 via PSIP for consumer television receivers. KVTU-LP is the sibling and transmitter is installed at Mt. Wilson California as is the case with most of the LA market stations.
Watch KHIZ-TV Los Angeles, CA Stream Online
Watch KHIZ-TV stream online from Los Angeles, California. Stream may take a moment to load.

Read More
KHIZ went on air as K64AT and was licensed to Victorville, California at is beginning. Owned by TBN and serving as a translator of KTBN-TV for a long time via Ch 64, its dial changed to Ch 33 in 1987 and calls to K33BT and then Ch 39 and calls: K39GY in 2003. Trinity Broadcasting Network in 2007 released the channel to a former California television weather team member. A construction permit was issued to the station by Federal Communications Commission on March 22, 2007 to start digital transition. Following the completion of KHIZ, it started operating with an ERP of 15,000 w. Airing Cantonese and English content, the channel on May 6, 2009 switched to a Barstow translator KHIZ-DT 44. In July 2012, the calls were changed to K02RB-D, changed its dial to Ch 2 while also shifting to the digital translator of KOCE-TV 50 based in Huntington Beach. KOCE now operates K41CB for its over-air broadcasts in Victorville/Barstow area. The call letters were changed to KHIZ-LD on Jan 22, 2014a and it got affiliated with Zuus Country (todays The Country Network).
DTV America, a Florida-based LP channel owner on Aug 24, 2015 made the purchase of KHIZ and was finalized following the approval of Federal Communications Commission on Oct 5, 2015. The simulcast of The Country Network aired by KFLA-LD2 was shifted to KHIZ-LD3 in 2016. The main subchannel became Newsmax TV and infomercials were moved to the second subchannel. More sub-channels came with the arrival of American Sports Network and QVC and Liquidation Channel.