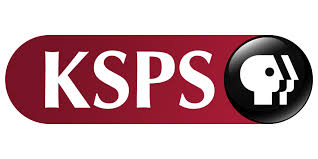 KSPS-TV is a PBS affiliate broadcasting in Spokane, Washington. Owned by KPS Public TV, the channel has its studios on South Regal Street in Spokane with transmitter located on Krell Hill southeast of Spokane. It can be watched in HD on Comcast Xfinity Ch 107 and is also available on Charter Spectrum Ch 1221 in Coeur d'Alene and Palouse. Dish Network and DirecTV slot for KSPS is channel 7.
Watch KSPS-TV Spokane, WA Live Streaming
Watch KSPS-TV stream online from Spokane, Washington. Wait as the stream loads.

Read More
History
KSPS went on air on April 24, 1967 and was located at Adams Elementary of Spokane Public Schools. In the beginning the channel was affiliated with National Educational Television: NET but joined PBS afterwards on Oct 5, 1970. Due to unavailability of the required school levy the station had to switch to t other means for its funding in 1972. Friends of KSPS was established in process to meet the financial needs.
In July 2012 KSPS was spun off to Friends of KSPS following a vote approved by the board of Schools. Friends of KSPS on the very next day earned a unanimous vote to take formal control of the service. In fall of 2013, the nature of the license was changed from educational to community. The staff of the school became the staff of NPO. At present Friends of KSPS managed by Gary Stokes is the chief financial supporter of the community channel. Under the new ownership of Friends of KSPS, the station was rebranded as KSPS Public Television.
Programming
KSPS programming comes from multiple local sources as its signal extends to the parts of Idaho, Washington, Montana and Oregon through main channel and a chain of translators. It is also available in British Columbia on Cable and in western Canada through satellite systems. A considerable amount of donations to KSPS come from Edmonton and Calgary and the reason for that is the populations of both Calgary and Edmonton as both have more than double of the KSPS American coverage area. The station is one of the five local television channels broadcasted in Canada via Shaw Cable. KSPS was the first channel to broadcast Sit and Be Fit program instructed by May Ann Wilson. You can watch KSPS online for educational and community programs and events, documentaries and upcoming events.  Follow the service on Facebook, YouTube, Instagram and Twitter. Here is the website: www.ksps.org/