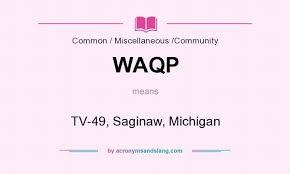 WAQP launched on March 26, 1995 is a TCT Network O&O channel operating in Saginaw, Michigan. Owned by Marlon, Illinois company Tri-State Christian Television the channel broadcasts in Saginaw, Midland, Bay City an as far as Lansing. The studios and transmitter of the channel are located near Chesaning, Michigan. WTLJ is the siter of the Christian television.
Watch WAQP Saginaw, MI Streaming Live
Watch WAQP Saginaw, Michigan live streaming. Wait as the stream loads.

It separated its digital channel into three separate feeds on Dec 12, 2008 splitting two in SD and 1 in HD. Tri-State Christian Television SD programs can only be watched in standard Definition while TCT HD shares entirely different lineup of High Definition content. Some programs are available in both feeds. TCT also hosts a secondary feed, TCT family which focuses only family programs kids programming and other content. On June 12, 2009, WAQP made digital transition after dropping its analog signal.
W69BJ and W27CN are the translators of the channel You can watch programs like Dr. Garth and Tina Coonce, Ancient Jewish Wisdom, Len & Cathy TCT Prayer on Purpose, Faith in History, Julie & Friends and mor online. Follow the station on Facebook, Twitter, Instagram and YouTube. Here is the website: http://www.tct.tv/