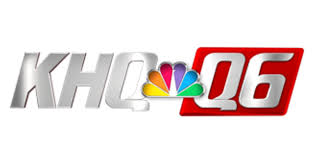 KHQ-TV owned by Cowles Company is an NBC affiliate serving in Spokane in Washington and Coeur de'Alene in Idaho. The flagship property of KHQ TV Group, a subisidary of Cowles Company is located on West Sprague Avenue in downtown Spokane with transmitter installed on Krell Hill in southeast of Spokane. It operates 24×7 weather and sports channel named SWX Right Now on its digital sub-channel 6.2. HD feed of the service is available on Comcast Xfinity in Spokane area, Charter Spectrum carries it in Palouse and Coeur de'Alene on Ch 1203 and on Ch 6 on Dish and Direc TV. It is also available in Calgary, Alberta and Edmonton via cable systems. Local cable systems broadcast KHQ in British Columbia.
Watch KHQ-TV Spokane, WA Online Streaming
Watch KHQ-TV live stream from Spokane, Washington to get latest news updates from Spokane, Tacoma, Idaho and other areas. Wait as the stream loads.

Read More
Slogan
: Right Now
Website:www.khq.com
History
KXLY and KHQ received FCC's grant to construct television stations on July 12, 1952. KHQ was the first of the two to launch on Dec 20, 1952. The film, Texas Trouble Shooters, was the first program to be aired by the service. Its first program as an NBC affiliate was an episode of Your Hit Parade. The oldest TV in Cascades, the channel is also the second oldest channel in the state of Washington. Cowles Publishing originally held the interest in the television and its radio sister KHQ 590 AM. Both the radios were sold by Cowles in 1985. A dual NBC and ABC affiliate in the area, it dropped ABC when KREM signed on air in 1954. It is one of the few channels in the history to have retained its original calls, affiliation and same ownership to the date. Spending more than 40 years in studios, the channel relocated itself to 1201 W. Sprague Avenue in downtown Spokane in 2001.The all-digital facility has helped the channel to rise to the challenges to modern day. Q6 is the traditional branding of the service. It converted into a digital channel on Feb 17, 2009.
At present the syndicated programming produced by the channel includes TMZ, Wheel of Fortune, Judge Judy, Jeopardy! and Hot Bench. Viewers can watch KHQ online for latest news, weather and sports updates, traffic reports and videos. Follow the station on Facebook, Twitter. LinkedIn and YouTube. Here is the website: https://www.khq.com/